Mr. M.Sai Prakash bagged Silver medal, in the in International Goju-Ryu Open Karate Championship-2017, held at Sri Rang Subba Rao & Satyavathi Kapu Kalyana Mandapam, Nidadavolu, West Godavari District, on 23-24 December 2017. This International Open Karate Championship-2017 was organized by AP Goju Ryu International Karate Do Association.
This Championship is recognized by Indian Government under All Japan Karate Goju Ryu Kai Association and , World Karate Do Federation (WKF), Japan Karate Do Federation and International Olympic Committee & Government of India. They organized championship in the events Kata, Kumite & Team Kata for the contestants. In this championship, out of a large number of aspiring participants, VVIT student got Silver Medal in Kata event in the individual category. Principal Dr.Y.Mallikarjuna Reddy in this regard stated that VVIT always takes care about the all round performance of their students by encouraging them to participate in different physical and psychological activities via their institutes Student Clubs. Dr.Reddy also commended the efforts of VVIT-Martial Arts Club for preparing the students in a comprehensive & potential manner to top any Championships materially and any challenges in their life morally.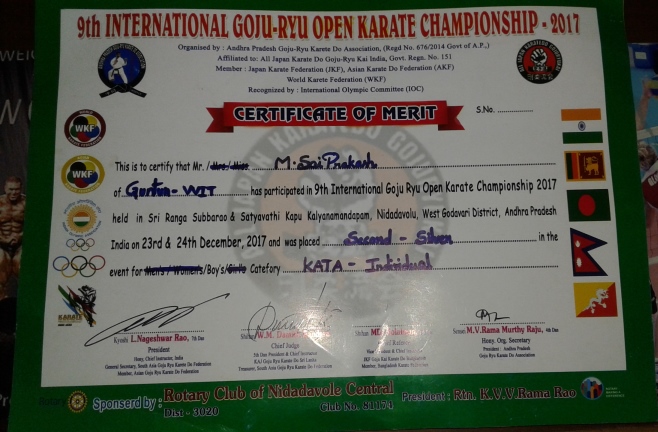 The medalist in Karate is congratulated by the Chairman of VVIT Sri Sagar, Secretary Sri S.Badari Prasad, Jt.Secretary Sri M.Sree Krishna, Principal Dr.Y.Mallikarjuna Reddy, Dean Prof. N.Kumara Swamy, Karate Club Coordinator Sri Prabhakar, Physical Directors Sri V Janarthana Reddy, Dr.N Arun Kumar & Sri Mallela Giridhar, all faculty, other management members & students.