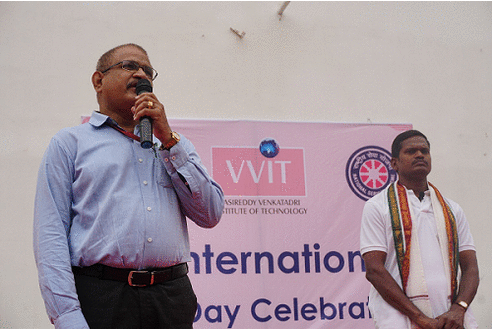 3rd INTERNATIONAL YOGA Day was celebrated on 21st July 2017 in our college campus. A huge gathering of 1826people that include Administrative, Teaching & Non-Teaching staff, 30 NCC Boy cadets of 2(A) ARMD SQN NCC, 70 Girl Cadets of 10(A) Girls Bn and 126 of NSS volunteers of  our institute have participated in  YOGA Day celebrations.
Initially our Dr. Y. Mallikarjuna Reddy,Principal addressed the gathering on the importance of the day. Dr. Nekkanti Kumara Swamy Dean (Academics) and Professor of Civil Engineering addressed the gathering on the benefits of yoga for physical and mental health.Yoga instructor Bysu Mallikarjuna Rao ,General Secretary, the Guntur Yoga Teachers association explained and demonstrated the individual postures of yoga prescribed by Ministry of Ayush,Govt of India. NSS Program Officers Sri Puttu Guru Prasad, Dr. K. Sathyanarayana and NSS College Coordinators of different departments participated in the Yoga Practice.
At end of the program individual Heads of Departments conveyed their wishes to all VVIT Community. The Yoga Program concluded with the National Anthem.
After the Yoga practice, Dr Y. Mallikarjuna Reddy, Principal announced that existing Yoga and Meditation Club will be extended its activities from Monday to Saturday with effect from 14th July 2017.